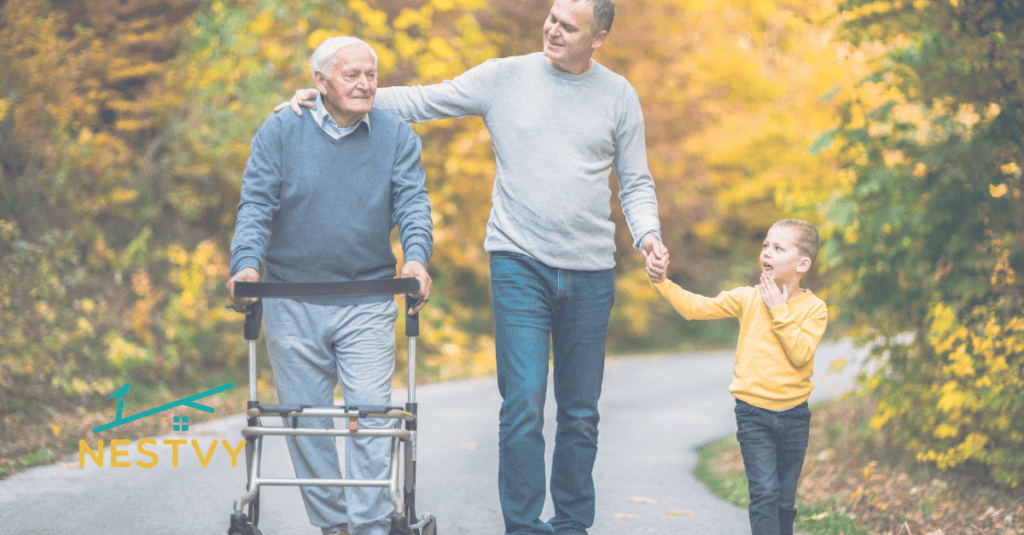 Realizing that your aging spouse or parent can no longer get through the day without help or support is a very difficult reality to live in. Whether the reasons are physical, mental, or a combination of the two, figuring out the next steps can be tricky and feel overwhelming. This is especially true with cognitive diseases such as dementia and Alzheimer's Disease.
You are definitely not alone. According to a study done by the Pew Research Center, over 40 million Americans are caring for an adult age 65 and older, with most of those being a relative. What is even more alarming is that most of these caregivers are between the ages of 45-65 themselves. So during the season of life when they are finishing up careers, looking to retire, and possibly dealing with their own health problems, almost half of these same adults are caring for an aging spouse or parent.
Perhaps you find yourself in this grouping of people, or you can look to the near future and see that you soon will be. It is important to know what to expect so that you and your family be prepared emotionally, mentally, and financially. When an aging adult has been diagnosed with cognitive decline, it affects every other area of their life making the situation much more complex than someone who has broken a hip, has diabetes, or needs surgery. Here are a few steps to take if you are caring for a loved one with memory loss.
Talk about it
Caring for a family member with memory loss affects most other members of the family, so there should definitely be a conversation (or several) regarding a plan of action. At the meetings, there should be the primary caregiver, secondary caregivers, other family members, and perhaps notes or recommendations from a doctor. This is also a great time to discuss good practices and therapies available for memory care patients.
A few necessary discussion topics will be the weekly schedule (including breaks for the primary caregiver), finances and budget, placement (Can Mom or Dad stay in their home or do they need to move?), medications and dosages, and what to do as the disease progresses. In most cases, there comes a point where a medically trained professional needs to assist in the care at least part of the time.
It is important to revisit the care plan every so often, especially after your loved one has sustained an illness, injury, or if their condition deteriorates rapidly.
Take time for yourself
This is probably one of the hardest steps to take especially if you are the primary caregiver. Life is busy, the demands are relentless, and caregiving (whether you've chosen it or it has chosen you) is one of the most demanding situations to be in. The truth remains, however, that if you don't take care of yourself you will most likely be unable to do so for someone else. You cannot give what you do not have.
Here are some necessary self-care guidelines.
Take time every day and every week away from your aging loved one. Every day. Arrange for another family member, a neighbor, or a hired in-home caregiver to relieve you for some time each day. Respite care and if your loved one is mobile, adult day care, are both great and inexpensive options to give yourself a much-needed break. Remember, your loved one may want a little time away from you too!
Do something you love. Music, reading, knitting, running, crafting, coffee with friends, hiking, or anything else you enjoy: do it often! You may use the excuse of not having enough time, but you need to make time to do the things you enjoy a few times a week. A happy caregiver equals a happier patient.
Exercise and eat well. This is something that everyone should be doing, but it's especially true for caregivers. Exercise will energize you and help you sleep better, and good food choices will give you good fuel so you don't burn out. Practicing good wellness habits will also keep your mind clear and your mood upbeat.
Ask for help
Even the most patient and compassionate human being feels burnt out and overwhelmed at times. You need to be comfortable asking for help, whether it's from another family member or someone you hire out. If you don't voice your need for a break, a second opinion on proposed treatment, or help paying the bills, it's probable that no help will come your way.
If you don't have any friends and family who can be of assistance to you, there are agencies who can provide advice and offer suggestions at no cost to you. Hiring a senior care coordinator to help manage the care of your aging loved one is a great first step in easing the weight that often accompanies caregiving for someone with memory loss.
If you have any questions about finding care and support for your aging loved one please reach out to us. Our experienced and compassionate senior care coordinators are available to answer any of your questions.