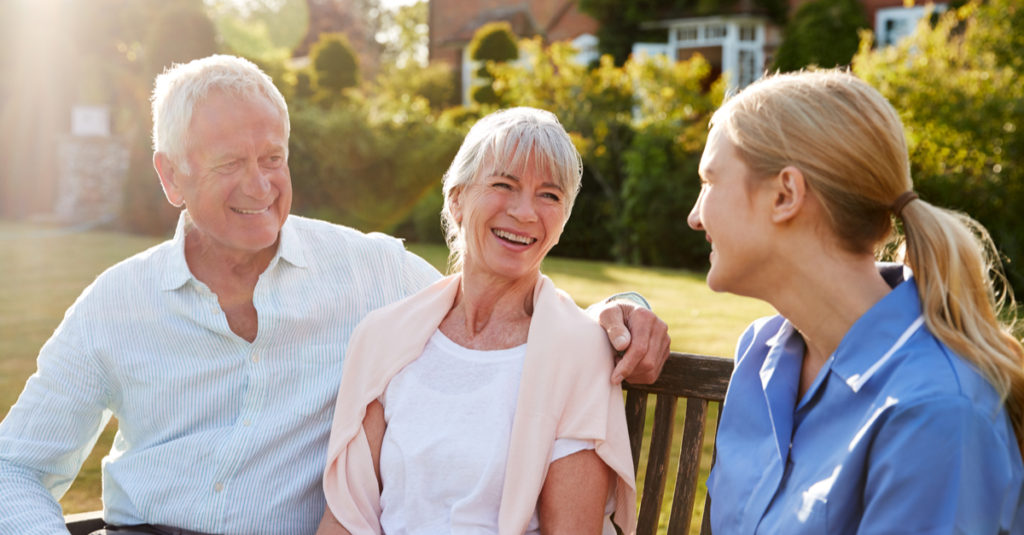 There are many options for senior assisted care for your parent or loved one, and finding the perfect fit isn't always the easiest task. However, there are a wide variety of resources available that you can use to help make the process easier for both you and your loved one.
Whether you're looking into senior assisted care facilities or are simply interested in learning more, we've developed a handful of conversations you should expect have when the time comes to begin touring senior care options.
Additional Costs for More Difficult Care
The basic costs for most long-term care facilities include just about everything your parent or loved one will need to live comfortably, which includes their room, meals, access to daily activities, assistance with personal care and more.
However, if they have a condition that requires around-the-clock medical attention or are showing early signs of requiring something such as memory care, it's likely there will be additional costs for care. This can lead to your next question: What level of care does your loved one require?
The Level Of Care that They Can Provide
It's not uncommon for residents to be asked to leave if a facility decides they're unable to provide them adequate care, and you'll want to know exactly where that threshold lies. If your loved one enters into the facility with a condition that worsens, are they still equipped to care for them? If not, you'll want to make sure to know exactly how the facility will handle it and if they'll help you establish a backup plan.
It's also a good idea to bring documentation of your loved one's medical history to ask about how specific illnesses will be handled if they worsen, as some facilities are better able to handle certain conditions than others.
Accepted Payment Methods
There are many ins and outs to discuss in terms of what Medicaid and Medicare will and will not cover. Once you know what type of insurance you're working with, there are a few key points you may also want to discuss. For example, does the facility accept long-term care insurance, Medicaid or Veteran's Benefits to help cover costs? Are there payment plan options available?
Depending on what other assets your family has at your disposal, you may need a policy that would pay for the total cost of long-term care or just one that would pay enough to help co-insure the risk. While there are a variety of options to work with, the most important thing you can do is to make sure you have all the necessary financial information at your disposal before making a decision.
Individualized Care Plans
Every resident has different physical, emotional and medical needs, which can often be determined by a variety of factors such as mental health or level of mobility.
Since no two residents are the same, it's important to identify how a facility's care plans are developed and implemented. In order to determine if the facility is equipped to handle your loved one's needs, you may want to ask yourself what requirements they have. For example, does your loved one need timed medication reminders or require a special diet? Is he or she a fall risk which demands particular precautions?
While these are only a few of the specifications your loved one might require, it's important to identify them in order to make sure the facility can work with you and your loved one on specific areas of treatment before moving forward.
At Nestvy, we ask our clients to first fill out a care form questionnaire in order to determine their individual needs! Looking at some of these questions may help you come up with a list for your loved one, too.
Appointment Logistics
Knowing the logistics here can help save you some peace of mind later on. Whether your loved one requires regular doctor's visits or you just want to be proactive, you will want to ask questions about the doctors and medical care professionals they have on staff.
Some questions you might ask include:
Which hospital do they primarily work with?
Does the facility take care of scheduling appointments, or is that something you'll need to handle?
If they do, is there someone on staff who can transport your loved one to and from the appointment?
Is the facility close to their primary care doctor?
Does the facility work with doctors at your loved one's preferred hospital?
While we all wish we could be there to help handle our loved one's medical needs, it's not always an option. Whether you live far away or you just aren't equipped to handle their needs, sometimes finding professional help for your loved one is the best option.
Licensing & Inspections
This is perhaps the most qualitative evidence available for you to make an informed decision. Assisted living facilities are generally regulated at the state level, so licensing requirements and inspections will often vary from state to state. In California, for example, there are several public and private entities that are involved in this process. The California Department of Social Services is in charge of ensuring senior care facilities comply with any state laws or regulations and keeps a record of those that have been cited with violations. They also have resources available to residents and their families if you're looking for additional information outside of the conversation with the facility director.
Use this as a guide when you're touring senior care facilities, but don't be afraid to do additional outside research as well before or after a visit. Online reviews, a reference from a friend or acquaintance and even free resources like Nestvy can aid in the proper placement of your aging parent or loved one.