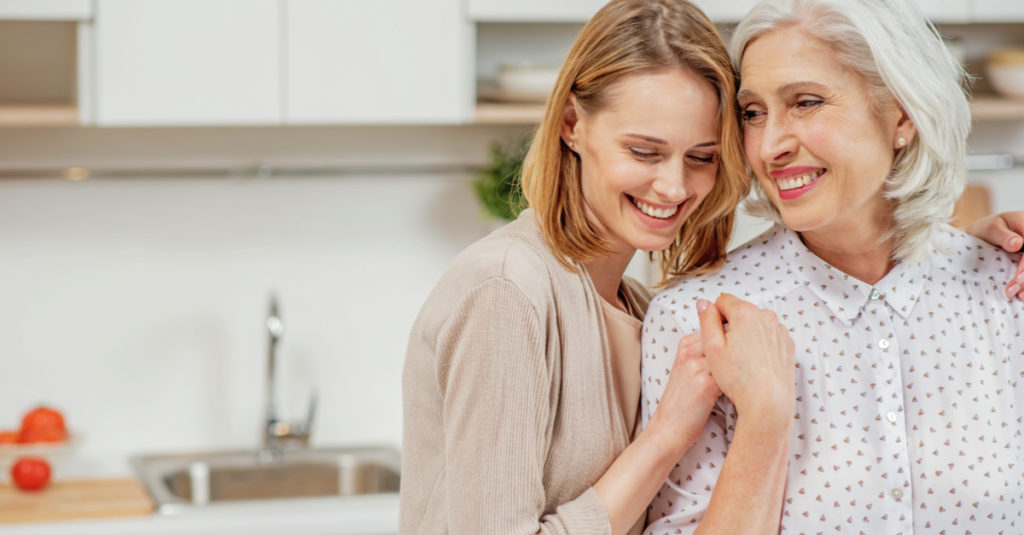 To help a parent or loved one begin a healthy, fulfilling transition into old age, it's best if the planning process happens gradually and with plenty of time to prepare. However, the process doesn't need to be as difficult as you might think!
If you and your loved one are able to start the conversation early, you can help ensure a smooth transition when the time comes to hire a caregiver or move them to a long-term care facility. This kind of discussion can sometimes be met with contempt, so keep a few things in mind when approaching the subject: 
Be empathetic, but avoid too much sympathy: Nothing feels worse to a parent than a child feeling "sorry" for them.
Be respectful and truly listen: What you think they need and what they actually want could be very different, so it's important to keep an open mind.
Continue the conversation: This isn't a one-and-done topic; as your loved one gets older, things could change either with their mental or physical health.  
If you think you might be ready for this conversation or are simply looking for more information on preparing your loved one for senior care, let's take a look at some of the key topics you may want to discuss.
Identifying ideal senior care options
As soon as you begin to research long-term care for your parent, you'll be inundated with possible solutions: assisted living, independent living, memory care, retirement communities, residential care homes, 24-hour nursing care and more. 
However, every patient is different, so there are also a variety of in-home care services to consider as well, which include medication reminders, light housekeeping, meal prep and groceries, personal hygiene, errands, shopping, transportation and more. If your loved one does require memory care, it is important to remember that this type of patient does demand different considerations, as they tend to have more specific needs. 
As your parents continue to age, you can't always predict what will happen or conditions that may develop—which makes it all the more important to discuss different scenarios in order to understand what their preferences would be. 
Here are some examples of questions you might ask: 
At what point would they consider moving into a long-term care facility? 
What options are they more open to exploring than others? 
If they move into a facility that can't provide the required level of care they'd need after a certain point, where would they like to move after that? 
How would they prefer to handle their assets (i.e. car, home, etc.)?
Once you have a better idea of the care options they'd like to explore or are willing to consider, you can make more informed choices moving forward. It also might be helpful to bring in trusted family friends or professionals to help with the discussion. A long-time family doctor, long-term neighbor or other beloved companions who have experienced this could be beneficial during these conversations.
Exploring long-term care insurance
It's wise to help your parent research long-term care insurance options while they're in their fifties and sixties, before the need for it becomes more evident. Monthly premiums for this type of insurance increase as the insured member grows older, and coverage options can lessen depending on their health. 
Unlike 15-20 years ago, there are many long-term care insurance options available to seniors today. However, the two most common types of care insurance for seniors include a traditional plan and a newly popular policy known as a "hybrid" plan. 
Traditional: This policy offers the ability to customize your insurance to match your financial and family situation. With traditional long­-term care policies, you choose your benefit amount, benefit period, elimination period and whether you want to include extras such as inflation protection. 
Hybrid: This policy involves "linking" your long-term care benefits to additional insurance benefits. Many hybrid policies provide the ability to elect your long-term care insurance benefits—monthly benefit, benefit period and inflation protection—at the outset. However, these policies usually include a one-time premium up-front.
When considering the purchase of a long­-term care policy, if you're still unsure of which option is the best fit, it may be helpful get quotes and compare your options in order to fully understand the pros and cons of each. 
Financial planning
It should come as no surprise that quality care for aging seniors can be costly, which is why it's important to discuss options that best fit your loved one and your budget sooner rather than later. By outlining a viable financial plan ahead of time, you can start to narrow down possibilities or budget accordingly. 
Also, it's important to remember when planning whether health insurance or Medicare will cover part of their care. Be sure to discuss this with your parent's doctor and insurance company to make sure they're getting the most out of their plan. 
Preparing legal documents  
The last thing you would want to have to scramble for is legal documents. For example, it's important to make sure your loved ones have an updated will, as it will be their legal voice that dictates exactly what will happen with their affairs. If they haven't done so already, your loved ones will also need to select an appropriate power of attorney, who will make legal and medical decisions on their behalf if necessary. At the very least, have these five documents prepared:
A will
A durable power of attorney for healthcare
A durable power of attorney for finances
A medical directive
A revocable living trust
If you don't feel up to the task, don't worry. A lawyer can help you follow the appropriate protocol to prepare these properly. All you have to do is make sure your parent keeps all documents and proof of long-term care insurance in a safe place that is accessible to both you and them. It's also wise to keep your own copies in the case of an emergency. 
Talking through each of these points will make the transition much easier for everyone involved. If the time has come to search for long-term senior care placement, we can help! Nestvy offers completely free resources to ensure your loved one receives the care they need most.